Checkfield is a company especially providing professional IT consulting and managements for small to mid-sized companies.
We provide designing of an office IT network, infrastructure maintenance, and management and consulting for actual operation. We also provide PC/Network trouble shooting and Web planning/designing.
We speak English and already have several foreign-affiliated customers and embassy customers. We can communicate directly with your homeland headquarter IT team and operate along your company's policies, so you can load off any concerns about IT and concentrate your proper business.
Feel free to contact us and we'll suggest the best solutions for you and your company!
Contact us
infocheckfield.co.jp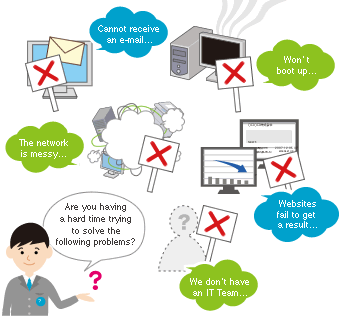 TEL:+81-3-5805-2678 / FAX:+81-3-5805-2679
Sembikiya-Sohonten, Ltd.
Spectris Co., Ltd.
ASHITA-TEAM Co., Ltd.
ATSUMARU Inc.
Komy Co.,Ltd.
New Otani Co., Ltd.
Tojo Kaikan Company Ltd.
Luckbag Group Ltd.
Sarashina Horii Co.,Ltd.
Ikemitsu Enterprises Co., Ltd.
Yamato-Tsushinsha,Co.Ltd
Hero Life Co.,Ltd.
YG ENTERTAINMENT JAPAN INC.
TOSHO Co., Inc.
VOX TRADING CO.,LTD
Built Material Co.,LTD.
Central Union of Agricultural Cooperatives(JA Zenchu)
National Federation of Fisheries Co-operative
Japan Network for Climate Change Actions
The Association Against Counterfeit Product Distribution (AACD)
Japan Ready-made Meal Association
Society of Japanese Value Engineering
Non-Governmental Organization JEN
Waseda Legal Commons, LPC
Quality One Tax. Co
Shinnihon Tax. Co
Yaesu Audit & Co.